Back
Where to find the best ice cream in London!
Ok, the sun has been in serious short supply this year, but who can resist an ice cream to brighten up our mixed weather summers? On a hot day, it cools us down; on a rainy day, it makes us smile. And while we may all secretly love a 99 ice cream to remind us of the simpler pleasures of childhood, sometimes we crave something a little bit special. And London, we're pleased to say, doesn't disappoint in offering the best gelato to suit all tastes.
So, whether you like to stick with the tried and tested trio of vanilla, chocolate and strawberry, or you enjoy being more adventurous in your choice of scoop (almond with fig or ricotta and sour cheese, anyone?), you'll find London has a gelataria for you.
Always keen at ideal flatmate to put in the hard work so you don't have to, we've criss-crossed the capital to find the very best. In no particular order, here are seven of our favourites:
1. Oddono's
Locations: nicely spread throughout London with outposts in South Kensington, Battersea, Hampstead, East Dulwich, Chiswick, Stoke Newington and Wimbledon
Oddono's produces their ice cream on a daily basis using in-house recipes and the finest ingredients from around the world(vanilla from Madagascar, pistachio from Sicily). They use no colourings, preservatives or GM products. Try their Nocciola (Hazlenut) – it's to die for.
''Life's too short to eat bad ice cream'' and you can't argue with that.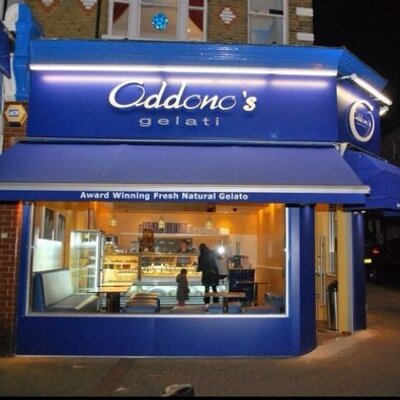 2. Gelupo
Location: 7 Archer Street – Soho
Opened in 2010 by Victor Hugo (alas, not the French author of Les Miserables) and chef Jacob Kennedy, Gelupo is the ideal place for a pre or post theatre treat. Service is friendly and always fast. A wide range of delicious and sophisticated flavours, helped no doubt by specialist churning equipment to increase creaminess. Interesting vegan options such as strawberry and pink peppercorns.
Delivery service is also available. 
3. Udderlicious
Locations: Islington, Covent Garden
Husband and wife, Raj and Raj (ice cream obsessives) opened in 2013 and haven't stopped experimenting with new flavours. Fancy a scoop of "Brexit Mess" or "Game of Cones"? If not, you can vote for the flavour you want to return next month. How democratic is that? All their ice cream is lovingly made in store using organic milk. The Islington branch is small but very cosy, and popular even in winter. Queues can be long, but it's definitely worth the wait.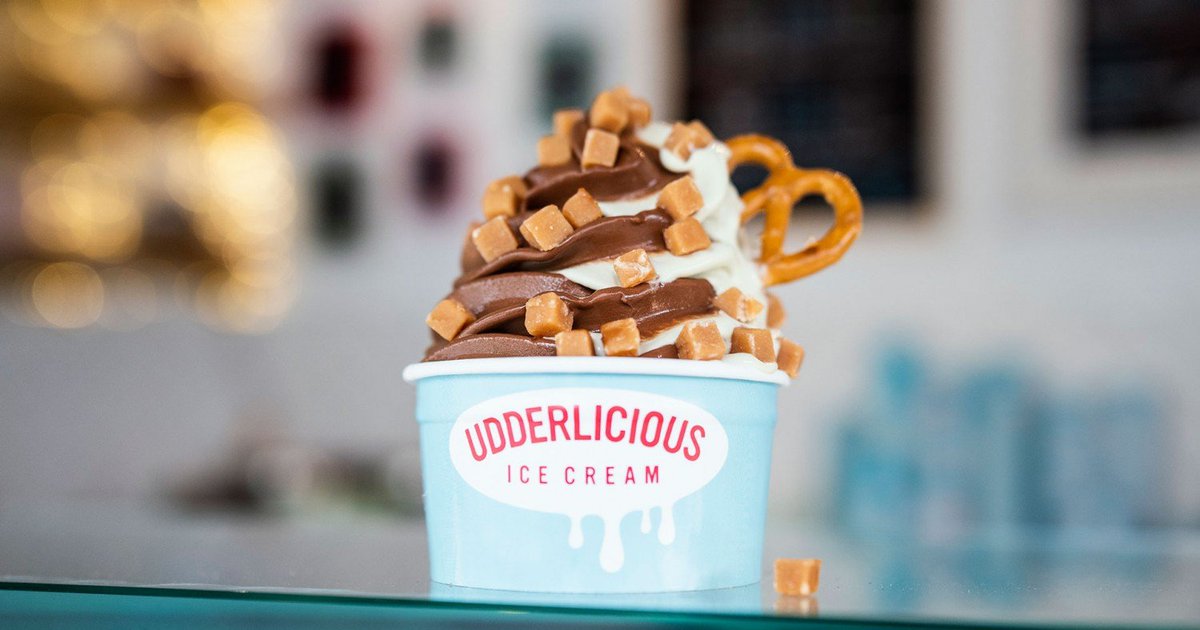 4. Gelatorino
Locations: Covent Garden, Richmond
Similar queues outside Gelatorino are all you need to know about the excellent gelato served here. We love the Banana and Zabaione flavours – close your eyes and you can really imagine yourself back in Italia. Even the name incorporates Torino – a city synonymous with the best ice cream in that country. We like the super friendly service and the slightly old fashioned feel to their parlours. The coffee is also very good. This is definitely one for the purists – Go!!
5. Marine Ices
Location: 61, Chalk Farm Rd, NW1
A true institution in Camden. And as Londoners have been getting their regular fix of authentic Italian gelato here since 1931, you could say Marine Ices has stood the test of time. 24 flavours are available every day and it remains as popular now as it's ever been – despite the growing competition snapping at its heels.
Just a short distance from Camden Lock, this is the perfect place to enjoy a delicious gelato, sundae or sorbet.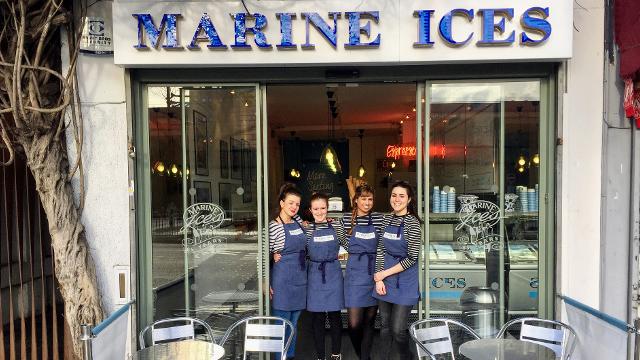 6. Nardulli
Location: 29, The Pavement, Clapham
Situated in an interesting Art Deco building a step away from the trees and green grass of the Common, Nardulli is a popular spot with the discerning Clapham crowd.  While the shop itself is definitely no frills, the gelato is top notch. Interesting flavours such as Cardomom, Fig or Liquorice (the latter using liquorice imported from Tuscany) are on offer, but we couldn't resist the Bacio – a creamy concoction of chocolate and hazelnut. The waffles here are to die for. 
7. Romeo and Giulietta Artisan Gelateria
Location: 137, Albion Road, Stoke Newington
Have we saved the best 'til last? Maybe.
We couldn't resist trying out this wonderfully named gelateria and boy were we pleased that we did. Homesick Italians come here for their gelato, and we can understand why. The salted caramel and pistachio alone was worth the 25 minute wait (and it wasn't even a sunny day).
They also serve mini cones for the little ones- how sweet is that?
Stoke Newington is very lucky to have this superb gelateria on their doorstep.